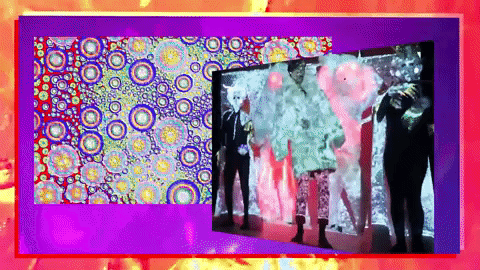 of Montreal has a trippy dance party in music video for new single "Plateau Phase/No Careerism No Corruption"
Posted 02/15/2018
Ain't no party like a Kevin Barnes party. SPIN shared of Montreal's latest music video for the second single off their forthcoming album, White is Relic/Irrealis Mood, out March 9th.
Kev gives us the story behind his latest psychedelic journey, directed by Christina Eleni Schneider:
"Plateau Phase/No Careerism No Corruption started out as a song I wrote for Janelle Monáe last summer called Fucked In Your Driveway. We worked on it together one magical day in her laboratory at Wondaland but nothing really happened with it, so I reworked it into something very different for my own album. Lyrically I pulled inspiration from Multiverse Theory, the writings of Wilhelm Reich and the economist Guy Standing, Eastern European party culture, and Bluets by Maggie Nelson, as well as my burgeoning new love affair with a woman of mystery and magic. We shot the video in Atlanta at an art/performance space called RowdyDowdy one chilly winter day this January."
Dive into "Plateau Phase/No Careerism No Corruption" below.
Catch of Montreal on tour next month with Mega Bog and Locate S,1.