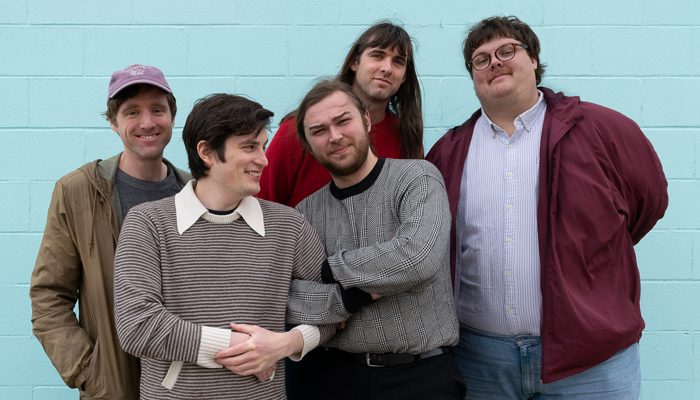 Shy Boys announce sophomore album Bell House (out 8/3) with new single "Take the Doggie" + watch pup-centric lyric video
Posted 06/05/2018
Christmas comes early! Our most recent new signees' Shy Boys are throwing it down today announcing their forthcoming album, Bell House, alongside the world's greatest lyric video for lead single "Take the Doggie." This video was made possible by all YOUR amazing pup submissions - watch below and start your day happy.
"Take The Doggie" was written in tribute to a dog who lived just down from Bell House, where the band was living at the time, and he was just a good natured mutt who didn't really seem to get any love from it's owner. The song was recorded in one take straight to tape and as Collin Rausch remembers it "A lot of times, it feels like we're right on the edge of total collapse, especially with 'Doggie.' Playing it's a thrill for me because there's always a base sense of panic when we come to it in the set. I love the last bit at the end of the song after the vocals end and it's just instrumental. When we recorded it, that's the point that I knew we had done it, that this was the keeper. I think we all knew it too, cause in that moment the song sounds to me like pure joy. Like when basketball players jump off the bench and fall over themselves after a dunk."
Pre-order
your copy of
Bell House
now, out
August 3rd
. Catch the band on a headline
tour
beginning tomorrow in Dallas and then again later this summer with
Cut Worms
. Tickets
onsale
now!
06/06 - Dallas, TX @ Three Links
06/07 - Austin, TX @ Hotel Vegas
06/08 - Houston, TX @ Mid Main Houston
06/09 - San Antonio, TX @ Paper Tiger
06/11 - Phoenix, AZ @ Lunchbox
06/12 - San Diego, CA @ Whistle Stop
06/13 - Los Angeles, CA @ Love Song
06/14 - San Francisco, CA @ Elbo Room
06/16 - Leggett, CA @ Hickey Fest
06/19 - Portland, OR @ Mississippi Studios
06/20 - Seattle, WA @ Barboza
06/21 - Boise, ID @ Idaho Botanical Gardens
06/22 - Salt Lake City, UT @ Kilby Court
06/23 - Denver, CO @ Syntax Physic Opera
07/08 - Sioux Falls, SD @ Total Drag Records
07/09 - Minneapolis, MN @ 7th Street Entry #
07/10 - Davenport, IA @ Daytrotter #
07/11 - Nashville, TN @ High Watt #
07/12 - Asheville, NC @ The Mothlight #
07/13 - Atlanta, GA @ Drunken Unicorn #
07/14 - Chapel Hill, NC @ Local 506 #
07/16 - Washington, DC @ DC9 #
07/17 - Philadelphia, PA @ Johnny Brenda's #
07/18 - New York, NY @ Mercury Lounge #
08/04 - Kansas City, MO @ recordBar
08/09 - Chicago, IL @ Schubas
# w/ Cut Worms